Content originally from BBC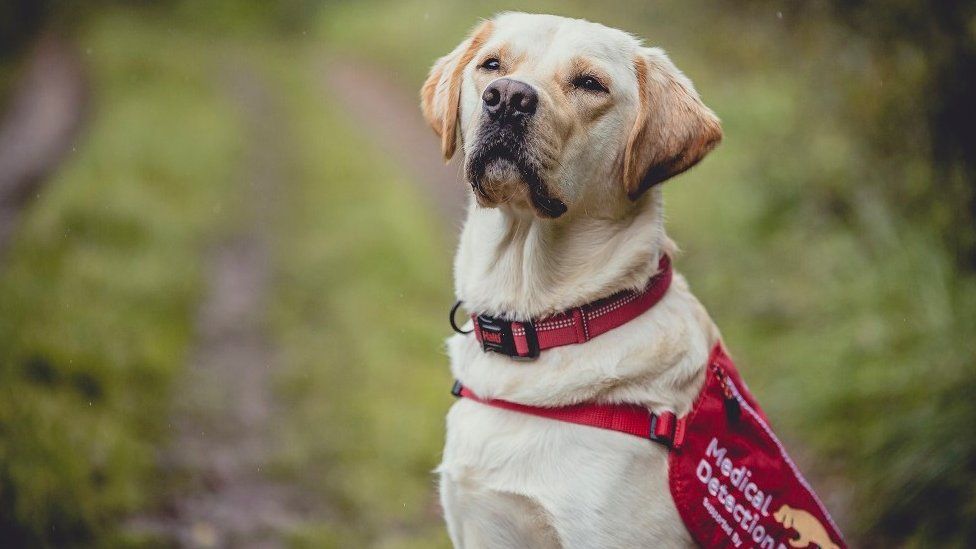 Three dogs found to be unsuitable as guide dogs for the blind have become the latest recruits for a trial to see whether dogs can detect coronavirus.
The charity Guide Dogs has donated the animals to the Milton Keynes-based Medical Detection Dogs.
If successful, the new recruits could be deployed as part of a trial to see if dogs could be used in public places to detect people with Covid-19.
The two-year-olds, Ivan, Maple and Spencer, were bred by the charity.
Ivan and Spencer are both Labrador-golden retriever crosses and Maple is a Labradoodle.
'Willingness to please'
Chris Allen, Medical Detection Dogs' training manager, said: "We're incredibly grateful to Guide Dogs for giving us these three fantastic dogs. Growing up as guide dog puppies, they've already had lots of experience being out and about in busy public places.
"The dogs thoroughly enjoy working – it's a big game. We're using their willingness to please, their drive, their wanting to use their nose, and shaping and redirecting it in a positive way."
Tim Stafford, director of canine affairs at Guide Dogs, said: "Guide Dogs is delighted to be able to support Medical Detection Dogs, and collaborate in the fight against Covid-19 with this ground-breaking work."
The trial, backed by £500,000 of government funding, involves scientists from the London School of Hygiene & Tropical Medicine and Durham University.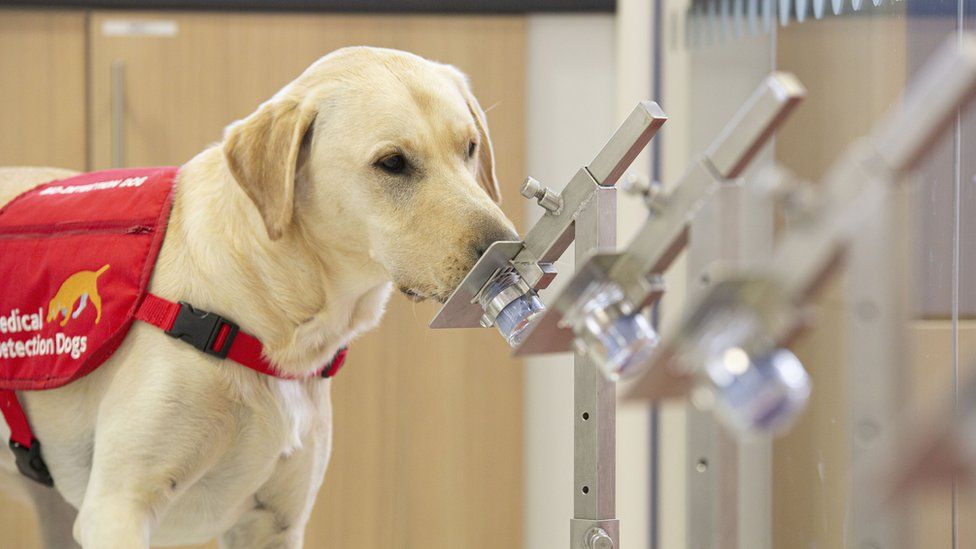 In July the BBC reported a trial of six dogs to detect coronavirus by Medical Detection Dogs.
Dr Claire Guest, the charity's co-founder and chief executive, started training dogs to detect cancer in 2002 and set up the charity in 2008.
A year later, her fox-red Labrador Daisy, trained to detect bladder and prostate cancer, started pawing at her chest.
Doctors discovered she had a breast cancer tumour so deep it would have been very hard to detect had she not been alerted.